Dear Readers, Holidays and free days are over. School children will sit at their desks

I have lately read why children have two months holiday. It was because of the fact that July and August are the months of harvesting and children in the past had to help during these activities. Only after all crops were safely under the roof, they could return to schools.

We have September in front of us, the month, when the summer is slowly fading and gives the rule to the colourful autumn. But the touristic season doesn't end at all. On the contrary! In September it is ideal to plan the second or the third holiday. Travel agencies are offering a lot of last minutes. But you might say that you have been to the sea this year already, so why to go there again?

In this country, we have an ideal climate. The Sun is not so hot, sometimes rain showers appear and queueing for entrance tickets is quite short. You will find a lot of tips how to spend your autumn holiday in this copy. We would like to invite you the animal world, for a glass of nice young wine, walk in the Šumava mountains and to many cultural events. It is up to you what you will choose.

If you go abroad or stay in this country for your holiday, or if you have to spend these days at work, let me wish you a nice rest of the summer.

Martina Štěpánková
Vice Editor-in-Chief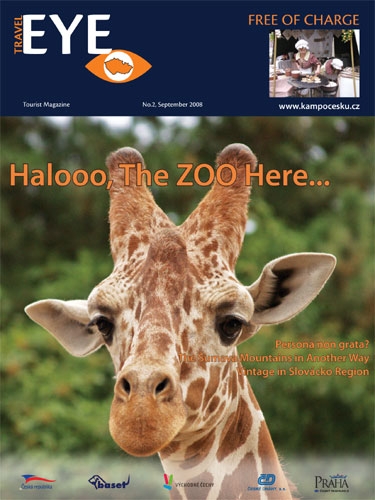 Current issue in printed form.
Tourist magazine Travel EYE, September 2008

Published by: Miloš Uhlíř – BASET
Editor-in-Chief: Luděk Sládek (ludek@baset.cz)
Vice Editor-in-Chief: Martina Štěpánková (martina@baset.cz)
Editor: Petr Šrain (petr@baset.cz)
Translation: Ivana Muková
Address: Kubelíkova 30, 130 00 Praha 3
Tel.: +420 222 944 817; Fax: +420 226 015 033
E-mail: kam@baset.cz, www.kampocesku.cz
Registered: MK ČR E 17866, ISSN 1802-8659
Graphic design and layout: Jarmil Dufek
Webmaster: Václav Horák - Keltoi@keltoi.cz
Printed: PBtisk s.r.o., Příbram
The publisher is not responsible for the contents of adverts and PR articles.