Dear readers,
I am glad to be able greet you in 2010, which will undoubtedly bring most of you new targets and resolutions for the upcoming months. I think the beginning of the year is often a forerunner of changes as well as something new and this year will see some alterations in the future issues of the magazine.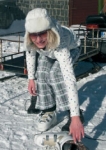 I am looking forward to bringing you the new face of Travel EYE, which in March should open its gates to cross-border areas and target a wider group of people, who would like to see the beauties of the Czech Republic and vice-versa.
In this issue we have prepared for you numerous interesting ideas for a winter holiday, which can be spent in several appealing ways. It pointless to list them here – just see for yourselves. I wish you lots of success in 2010, stay happy and healthy.
Kristina Leštinová, Editor

Current issue in printed form.
Tourist magazine Travel EYE January - February 2010

Published by: KAM po Česku, o. s.
Editor-in-Chief: Kristina Leštinová (kristina@kampocesku.cz)
Editor: Zdena Kubátová (kubatova@kampocesku.cz), Jolana Uhlírová (uhlirova@kampocesku.cz)
Graphic design and layout: Luděk Dolejší, Martin Červenka
Translation: Mgr. Rita Deanová, Ondřej Špaček
Address: Kubelíkova 30, 130 00 Praha 3
Tel.: +420 222 944 817; Fax: +420 226 015 033
E-mail: info@kampocesku.cz; www.kampocesku.cz
Registered: MK ČR E 17865, ISSN 1802-8640
Printed: Tisk Horák a. s.
Webmaster: Keltoi Václav Horák
Photo on the cover page: © KAM po Česku

The publisher is not responsible for the contents of adverts and PR articles.
Content: