The town of Písek in southern Bohemia has prepared for you several interesting events even in this time of late autumn and Advent. More events can be found on www.akcevpisku.cz or in a Month Cultural Programme, the complete text is on the website www.icpisek.cz.
Malthouse - a new object in the town centre.
It is not closing for winter, so you can visit any of interesting events which are being held here also now. The exhibition "Pop Art" until November 27 and "Kočkohrátky" (plays with toys) until December 31. The opening night of Karel Franta's devils will be on November 30, together with Christmas workshops and afternoon bell parade for children. The Malthouse is also preparing permanent expositions of ilustration and animated fi lms for children.
More information: www.sladovna.cz.
Until December 31 you can visit Prácheň Museum and Adolf Heyduk Memorial. Next to the permanent expositions you can also see the exhibition of contemporary southern Bohemian Bethlehem makers until November 25. On Saturday December 13 in the morning, there will be Mineral Market and traditional handicraft techniques shows in the museum. www.prachenskemuzeum.cz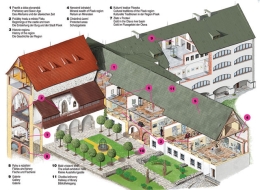 Advent in Písek
On Monday December 5, St. Nicolaus gifts-giving for children and adult will be traditionally held at Velké náměstí Square. December 3-21 you can support handicapped children and get an interesting present at the sale exhibition in the Portyč Cinema. An Advent market in the town centre will be on days December 18-20, Sborissimo sings "under the stars" on December 19 in the gothic walls, and on December 24 it is giving a Christmas Concert in the St. Trinity Hall. On Velké náměstí Square, there will be held an Advent koncert, on Sunday December 21, when you can also enjoy the live Bethlehem.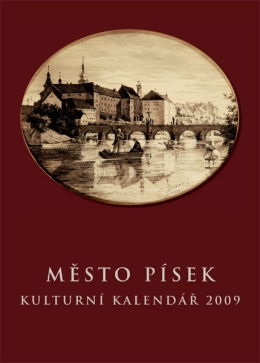 In the Infocentre a cultural calendar of Písek for 2009 with 13 pictures by Tomáš Štětka can be bought. Tomáš Štětka is the author of romantic watercolour pictures with the scenes from the end of the 19th and the start of the 20th centuries in the town. Out-of-season opening hours of the Infocentre: Mo-Fr / 9am – 5 pm.
Prepared Events for 2009
» Cipísek's Sand Box 5/15-17
» Tourpropag 5/19-20
» Šrámek's Písek 5/29-31
» Town Festival 6/12-13
» International Folklor Festival 8/19-23
» Comics Exhibition 9/1-27
» X BOX 360 Slopestyle - September
» International Students' Film Festival 10/8-10
Accomodation agency in Písek region, organized excursions and other programmes according to your demands:
Destination Mannagement Offi ce "Písecko – brána do jižních Čech",
Nádražní 2294, CZ-39701 Písek;
tel.: +420 382 215 796, +420 725 774 251;
e-mail: slavik@cksaturn.cz.
You can order a new catalogue on tourism in Písek region, which will be available also at the stand Písek / jižní Čechy at the fair "Regiontour Brno", Holiday World Praha and Holiday Ostrava.