The town of Strakonice was founded on the confl uence of Volyňka and Otava and acquired the attribute – town of bagpipers. It is connected with Tyl's play, Strakonice Bagpiper, as well as the production of fez hats and ČZ motorbikes. Although fezzes and bikes can now only be found in expositions at Strakonice Castle, the town has maintained its charm and customs, which you can see for yourselves on Apr. 24 - 25, the traditional opening of the tourist season.
Apr. 24 / 3.30 p.m. Skating through the Town in April
(Na Sídlišti Sports Centre)
• an attempt to set a record – the largest number of people in an in-line chain
• pyro-technical and light show before the start of the skating
• in-line skating for the young and not so young in three age categories
• no entry fee
Helmets and protective aids are recommended for all and compulsory for those under 15. If the weather is bad only the record on the in-line track will be attempted.
Apr. 25, / Strakonice Welcomes the Summer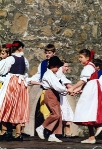 • The Third Year of Cleaning the River Otava - an Otava navigation project (Sušice, Horažďovice, Strakonice, Písek). Volunteers for cleaning the Střelské Hoštice – Sudoměř section are welcome. Contact: Town Information Centre.
• Cycling Trip to the southern part of the Strakonice region – a stop-over at Hoslovice water mill. Registration from 8.30 a.m. for 38, 52, 62 km routes and at 12.30 p.m. for the 12 km route. No entry fee. Start in groups at 9 a.m. and 1 p.m. at the second courtyard of Strakonice Castle.
• Czech Velocipede Club – Prague will stage a ride on "bone-shakers", in the way they were ridden by our grandparents
• Opening of the Hall of ČZ Traditions will inform you about the history of motorcycle production (viewing at 10 a.m. and 11 a.m.)
• 1 p.m. / Opening of the Afternoon Programme (courtyard of Strakonice Castle)
• Playful Afternoon for Young and Old (competitions, games, climbing wall, large trampoline, bike handling skills and others)
• March of Jakub, the Carp – non-traditional tour through the town (start and fi nish at the castle courtyard)
• 2 p.m. / Inka Rybářová and Rybička the Clown
- songs which will amuse mainly the children, accompanied with competitions and autograph signing
• 4 p.m. / Musical Programme
• A short fi lm not only about the history of Strakonice cycling
Town Information Centre
Velké náměstí 2
386 21 Strakonice
Tel.: +420 383 700 700, 701
E-mail: infocentrum@strakonice.net
www.strakonice.net