The region of Hradec Králové is popular among local and foreign tourists as well. It is one of very attractive destination in this country and has a lot to offer. Many castles, church and other sightseeings, beautiful natural sceneries – what else could one dream of a nice winter or summer holidays, weekends, or only one-day trips? The region of Hradec Králové consists of fi ve touristic parts: Krkonoše and Podkrkonoší, Hradecko, Orlické hory and Podorlicko, Český ráj and Kladské pomezí.
Hradecko Region
Flat scenery at the confl ux ot the Labe and Orlice rivers. A lot of beautiful woods, ponds, tourist marked paths and cycle paths. Mushroom pickers love this destination and others will enjoy their holidays here, too. You can ride a bike, or go sightseeing to local castles or other jewels of architecture. At many places of interest you can visit also cultural events, festivals, concerts, or exhibitions, which are being held all over the year.
---
Cycling is a trend of active spending free time and relaxation.
---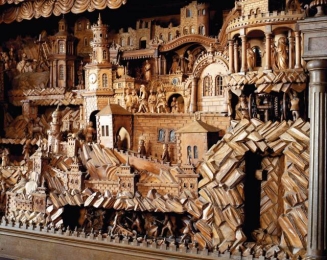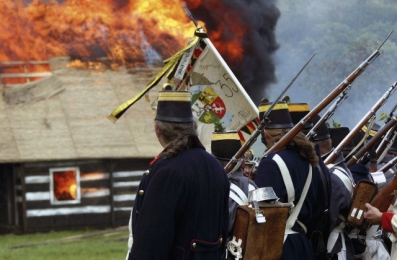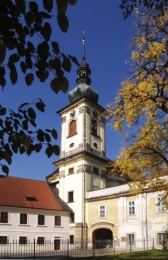 www.ic-hk.cz
www.hradecko-info.cz
Kladské pomezí Region
Do you prefer active tourism, or just relaxing? Welcome to the Velichovky Spa. Do you like history? Visit Rennaisance architectonic jewels in the town of Nové Město nad Metují, Náchod Castle, mysterious corridors in the Josefov and Dobrošov fortresses, or a romantic Grandma valley with a castle in Ratibořice.
Visit labyrints of an unique rock town Adršpašsko-teplické rocks, Ostaš and Broumovské cliff s, enjoy your free time at the dam of Rozkoš. Do you want to have fun? Go to see Lotrando on bike or crosscountry skis to the mountains Jestřebí hory. In August you can visit dancing town of Červený Kostelec, or theatres in Jiráskův Hronov.
---
One of the most popular destinations here are "Adršpaško- teplické skály".
---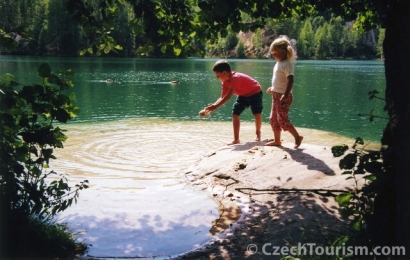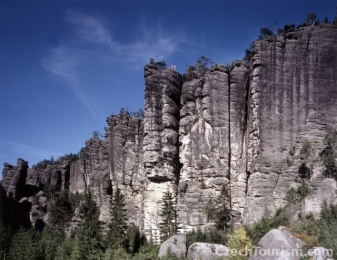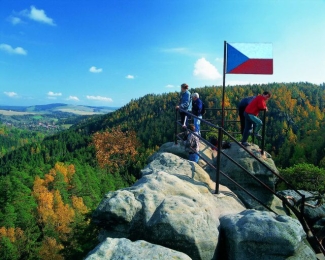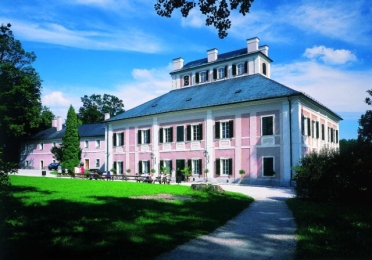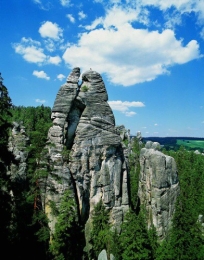 Krkonoše and Podkrkonoší Region
Beautiful and unique atmosphere of the Giant Mountains, the highest mountains in the Czech Republic, allure all visitors. The highest peak Sněžka has a very special face. And you can enjoy downhill skiing, cross-country skiing, snowboarding, adrenaline and other outdoor sports.
Podzvičinsko Region is a pictoresque part of Podkrkonoší, where you can fi nd African fauna in the Dvůr Králové nad Labem Zoo. Old times atmosphere can be enjoyed at the castles of Kuks and Pecka, near the dam of Les Království. A lot of cycle paths will lead you through a beautiful countryside here. Gormands will have an opportunity to taste a local specialities: Hořické trubičky and miletínské modlitbičky sweets.
---
Don´t hesitate and come to see Podzvičinsko Region – the pearl of Podkrkonoší Region.
---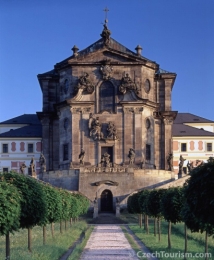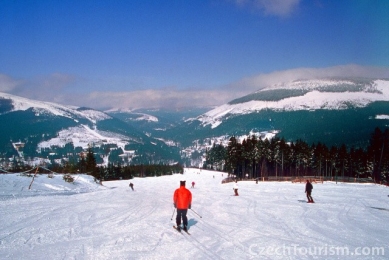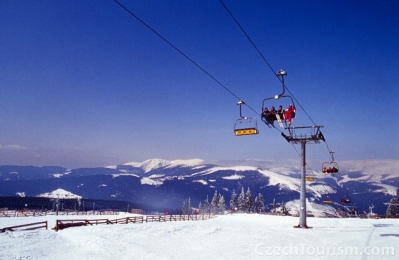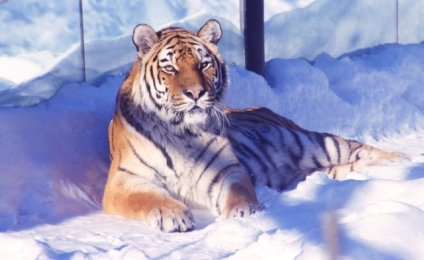 www.krkonose.eu
www.podzvicinsko.cz
Český ráj
Woods, meadows, glens, valleys and ponds, sandstone cliff s and rock towns, unique fauna and fl ora, castles, romantic ruins, folk architecture - all these can be found in Český ráj Region. A lot of myths and tales have come into existence here, as well as many typical customs and habits, and it is also famous for its cutting precious stones tradition, jewelery and glass-making.
Český ráj is an ideal destination for hikers and bikers as well, the marked touristic and cycle paths net is the densest in this country. Come and see, you are always welcome here!
---
The beautiful countryside of Český ráj was proclaimed as the fi rst national park in this country.
---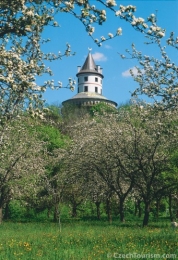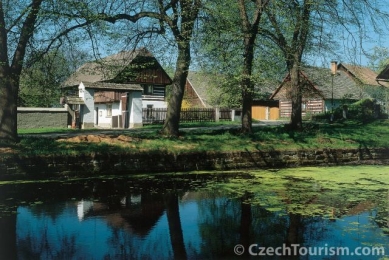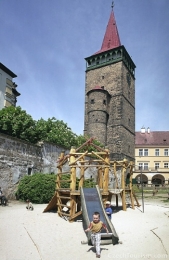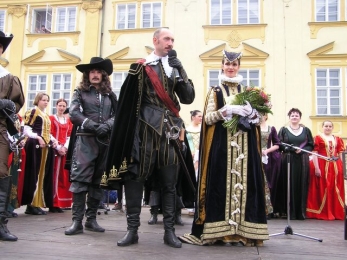 Orlické hory Mountains
Lovers of winter joys, welcome to Orlické hory mountains. You can enjoy your downhill skis, cross-country skis, or snowboarding in popular areas of Říčky, Čenkovice, Deštné, Zdobnice, and others. Pistes of various levels, cross-country paths and snowparks of high quality can be found here. In summer you can try nordic walking, climbing in rope centres, see army fortifi cations, and borrow a scooter or a bike here.
Riding beautiful cycle paths you can see a lot of old castles, view points and lovely countryside. Or you can board a boat on the Orlice river and pilgrim on...
---
Old time atmosphere in the Podorlicko Region.
---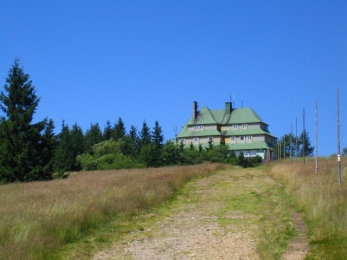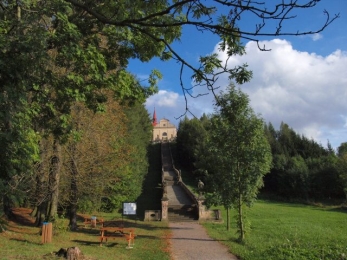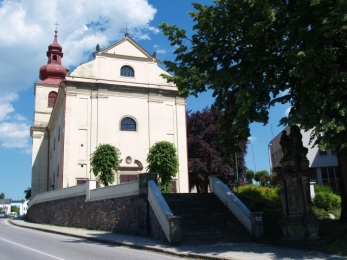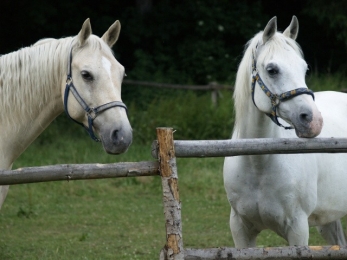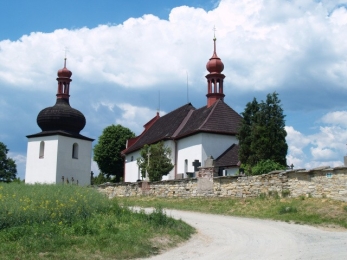 Královéhradecký kraj
www.kralovehradeckykraj.eu
www.kralovehradeckyregion.cz