The demolition of 3 Pilsen houses in Křižík Park in the 1980s resulted in the creation of Proluka (Gap). Since the attempt to redevelop this area failed, today you can see here the Theatrum mundi mural, which portrays important historic Pilsen personalities.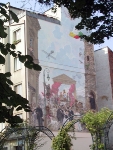 It also contains a Blériot plane, which seems more to depict the artist's imagination than true historic facts. But, the opposite is true. It reminds us of the vast contribution Pilsen made to Czech aviation development. At the time, which the fresco depicts, a branch of the Prague Czech Aviation Society already existed in Pilsen. One of its members was the son of the then Pilsen Chief Magistrate E. Peták. Maybe it was for this reason that an airport could be set up on an abandoned racecourse in Malesice. It is thought to be the fi rst permanent airport with an aviation school in Bohemia. It was for this school that the above mentioned Blériot XVII bis was bought.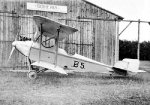 Other members of the society were Ing. Oldřich Haller and Rudolf Polanecký, who are connected with the construction of the fi rst plane of Czechoslovak production. It was a two-seater bi-plane with a four-cylinder 32 horse power engine. This April it will have been exactly ninety years, since the fi rst Bohemia B5 took off from the Bory Airport. It was on April 27, 1919 piloted by Rudolf Polanecký himself.
Foto: www.dolin.estranky.cz
Alois Rula