One of the youngest spa resorts in the map of the Czech Republic definitelly is Klášterec nad Ohří situated in Northern Bohemia, even if the spa tradition has been here active since the end of the 19th century. At that time a mineral water of the high quality was discovered here.

After many years of the area decaying, in the start of the nineties the town authorities decided to reconstruct it and return to the town the status of a spa and cultural place. The reconstruction was based on historical materials and photos, and the town got the title "Town of the Year 1998". During the years 2005 – 2007 another reconstruction was completed, including accesing communications and historical centre of the town. An important part of the reconstruction was also additional building to the spa house Evženie with a swimming pool and wellness procedures, as well as with new accomodation possibilities. There is also colonnade in the spa, which was built in 2006 and is perhaps the youngest colonnade in this country.

You can take part in energizing your body, antistress and sport programmes, we organize stays for seniors and families with children as well. You can play tennis, volleyball, ride a horse, bike or skates here, and in winter you can ski as well.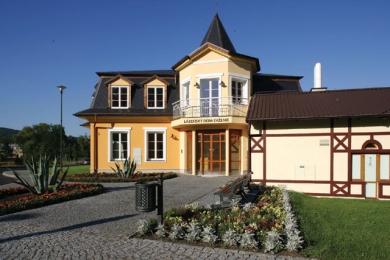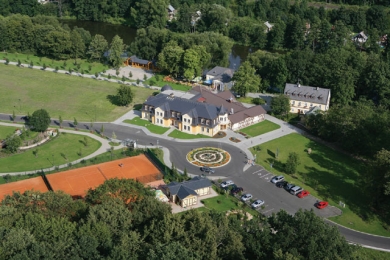 Spa Evženie a.s.
Kyselka 104
431 51 Klášterec nad Ohří
Tel.: +420 474 698 770
www.lazneevzenie.cz