A spa town Lázně Bohdaneč can be found in a beautiful countryside of the Elbe lowlands, only 8 km from Pardubice city. Spa tradition is connected with a local native Jan Veselý.
Jan Veselý got an idea to build a spa here in the nineties of the 19th century. He was inspired by opinions of ing. František Šantrůček from Prague, who proposed to use local peat for healing purposes because of its unique qualities. After drying local peat is light, without clay intermixtures, which is common with other types of peat, and can keep temperature for a long time.

Today Lázně Bohdaneč is a favourite place not only for the healing effects of peat, but also because of its architecture. The most important is Town Hall building, which came into existence in 1530 by reconstruction of three houses in the main square. It got a Renaissance look with building of archway and little towers with a bell. The architecture of the town is influenced also by ideas of arch. Josef Gočár who projected five buildings: Water reservoir, horsemen barracks, a pension Škroup, a villa No. 280, and a pavillion Gočár in the cubism style. The pavillion was open on May 1, 1913. In 1926 one more floor was built up, so the pavillion gained other 28 rooms. On the first floor, there is a Spa-municipal Public Library, on the second and third floors there are accomodation rooms with 112 beds and a cultural hall. In 1929 near artesian spring a pool with the statue of Venus by Josef Jiřikovský was built. On the open terrace with the view to the spa park you can sit with your friends, or enjoy sunbathing.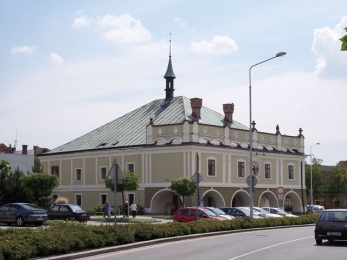 Spa Town Information Centre
Pernštýnská 117
533 41 Lázně Bohdaneč
Phone: +420 466 924 221
E-mail: infocentrum@lazne.bohdanec.cz
www.lazne.bohdanec.cz